NEW Kérastase Soleil Range Tackles Humidity!
Going on Holiday this year? Kérastase have got the perfect range designed to keep your hair looking its best in this humid temperatures.
Check Out Our March Newsletter!
Read our latest newsletter online here.
2016 Spring Hair Trend Predictions
How should we be wearing our hair in 2016? Here, our team of experts predict the hottest hair trends of 2016 including 'Strobing', 'Ronze' and 'Rose Gold' hair colours. Check it out!
Top 5 Romantic Hairstyles for Valentine's Day
Are you stuck for Valentine's Day hairstyle inspiration? Here, we share out top 5 romantic hairstyle ideas to ensure that you look - and feel - fabulous this year!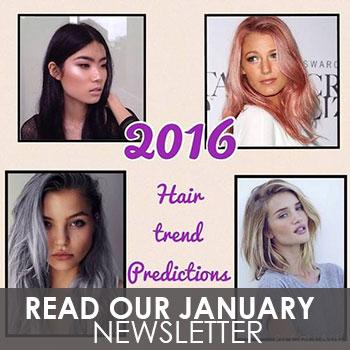 In our January Newsletter... Our Hair Trend predictions for 2016...
Elements Hair & Beauty are now a VTCT accredited Salon!
We are pleased to announce that Elements Hairdressing & Beauty are now an accredited VTCT Training Academy, a qualification recognised worldwide.
With London Fashion Week, the BAFTA's and the Brits all taking place in London this week –. It's just all about the London look. Elements Hair take a look at our best (and worst) dressed from this years BAFTA's.
Hair care product of the month – Kérastase Nutritive Masquintense Cheveux Epais or fins.
Kérastase Masquintense is a treatment mask for dry and extremely sensitised hair. If you're not sure if Masquintense is the right product for you, then come in to visit one of our Kerastase specialists to recommend the right hair care treatment for you.
Hair styling product of the month – Kerastase Mousse Bouffante.
Here at elements, we were over the moon when Kerastase launched their new styling range. The most popular amongst our team is the Mousse Bouffante, 'the volume overdose'!
Check out all the latest videos from Elements Hair, learn how to get that salon look.
What Hairstyle Suits Your Face Shape?
Compare face shapes and make your hairstyle work for you, gather inspiration and confidence with this great article.